About Ayurveda by Dr Ravindra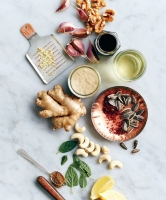 Have you ever longed for a straightforward map illuminating the elusive path to vibrant health, meaningful purpose, and an enduring sense of peace, contentment, and joy?
Look no further.
The Answer is "AYURVEDA"
Ayurveda is an ancient & natural system of medicine, healing the root-cause of illness and purifying body, mind, & soul.
"STUDY OF LIFE"
Its focus covers health, career, relationships & spiritual life with herbs, nutrition, aromas, yoga, mantras, life-purpose & many more other aspects of life & nature.
It is a holistic approach for Healing Mankind.
Mission: Relax! Revive!! Rejuvenate!
Ayurveda is a remarkably individualized system of medicine.
The tradition is rooted in the idea that each of us is born with a completely personal blueprint for optimum health.
From birth onward, it is this reference point—your constitution—that, in many ways, defines who you are.
No two constitutions are exactly alike; therefore, no two human beings can have precisely the same expression of ideal health.
In Ayurveda, everything is medicine and everything is poison; what might be beneficial to you could harm someone else, and vice versa.
It all depends on the context of who you are, and what patterns are currently at play in your particular system.
Ayurveda is fundamentally opposed to one-size-fits-all remedies.
While there are certainly some practices that are considered to be beneficial for most everyone, Ayurveda places the focus firmly on you, the individual concerned.
This is why your Ayurvedic Profile - an assessment of your constitution, your current state of balance, and a set of personalized recommendations to support you in your journey towards optimal health—can be such an empowering resource.
Come and join us in this Journey of Health with Ayurveda.:
Speaker: Dr Ravindra Gangwani. (BAMS, PGDHHM, PGDEMS, PDCR)
The lecture is in English.
19u - 21u Contribution : 15 euros
Inschrijven via Dit e-mailadres wordt beveiligd tegen spambots. JavaScript dient ingeschakeld te zijn om het te bekijken.
Evenement Eigenschappen
| | |
| --- | --- |
| Startdatum | 26-11-2021 19:00 |
| Einddatum | 26-11-2021 21:00 |
| Max. deelnemers | Onbeperkt |
| Prijs per persoon | $15.00 |
| Locatie | KarmaMarkt Brugge |